For instance, in Lage Raho Munna Bhai "Carry on Munna Bhai" , Gandhi appears to the feckless title character, helping him succeed in romance and change his life for the better.
Munna Bhai does not "remember" Gandhi per se, since these encounters are not recollections. Yet, as Mallot demonstrates, the representation of these visions, particularly as they are contrasted with other forms of memorialization of the Mahatma in statues, on currency, etc.
Mallot demonstrates that in contemporary Bollywood film, there is a fine, and uncertain, line between attempting to explain the violence of partition in contemporary film, and attempting to justify it. From the fourth chapter onwards, Memory, Nationalism, and Narrative in Contemporary South Asia turns its attention to works of literature, beginning with the work of two Sri Lankan writers, A.
Sivanandan and Romesh Guneskera. Sri Lankan literary nationalism has received less critical attention than its Indian counterpart, and bringing these two rarely-compared phenomena together is one of Mallot's most refreshing and original scholarly contributions. The Sri Lankan civil war itself, Mallot argues, was fought as much on the terrain of memory as on any physical landmass, as competing Tamil and Sinhala narratives were deployed to claim both the past and future of the island nation.
Conflicting and contradictory memories, in such a context, are not mere evidence of human frailty, but, as Mallot demonstrates, are occasions for both individual and communal crises. Even works of literature often displace the act and site of remembrance from the textual realm. Saleem Sinai's pickling of history in Salman Rushdie's Midnight's Children is a well-known example, and one that is brought into conversation in Memory, Nationalism, and Project MUSE promotes the creation and dissemination of essential humanities and social science resources through collaboration with libraries, publishers, and scholars worldwide.
Guide Memory, Nationalism, and Narrative in Contemporary South Asia
Forged from a partnership between a university press and a library, Project MUSE is a trusted part of the academic and scholarly community it serves. Built on the Johns Hopkins University Campus. This website uses cookies to ensure you get the best experience on our website. Without cookies your experience may not be seamless. Institutional Login. LOG IN.
Memory, Nationalism, and Narrative in Contemporary South Asia
In lieu of an abstract, here is a brief excerpt of the content: Reviewed by:. Edward Mallot. Sangeeta Ray. American Umpire. Elizabeth Cobbs Hoffman. Some Trouble with Cows. Beth Roy. Postcolonial Yearning. Anuradha Dingwaney Needham. Kelly Pemberton. William Mazzarella. Religion and Violence in South Asia.
John Hinnells. Home, Uprooted. Devika Chawla. Revisiting India's Partition. Amritjit Singh. Secularism and Religion-Making. Markus Dressler. The Spectral Wound. Nayanika Mookherjee. Secularism in the Postcolonial Indian Novel.
Contemporary South Asia ( part - 3 )
Neelam Srivastava. Religion in the Context of Globalization. Peter Beyer. Anne Murphy. Intimate Class Acts. Maryam Mirza.
Reconfigurations of space in Partition novels
Young Sikhs in a Global World. Knut A. Women Writing Violence. Shreerekha Subramanian. Unni Wikan. The Construction of History and Nationalism in India. Sylvie Guichard. Border Crossings. Fred Dallmayr. Muses India. Chetan Deshmane. I Love Dollars. Zhu Wen. Global Civilization. Majid Tehranian. Humanism: The Untold Tale. Chirag Patel. Full Metal Apache.
Takayuki Tatsumi. Understanding Indian Movies. Patrick Colm Hogan. The Book of Dede Korkut. Geoffrey Lewis. The Politics of Self-Expression.
What is Kobo Super Points?
Markus Daechsel. Wild Kids. Michael Berry. The Song of Everlasting Sorrow. Studying Hinduism. Sushil Mittal. Taiwan Cinema. Global Bollywood.
Nationalism in the Abe Era | The Asia-Pacific Journal: Japan Focus.
Canadian Review of Comparative Literature / Revue Canadienne de Littérature Comparée.
Read PDF Mimicry in Butterflies?
Bibliographic Information.
Sangita Gopal. The Story of Stone. Jing Wang. Pluralism and Democracy in India.
Wendy Doniger. Witnessing Partition. Tarun K.
Memory, Nationalism, and Narrative in Contemporary South Asia
Memory, Nationalism, and Narrative in Contemporary South Asia
Memory, Nationalism, and Narrative in Contemporary South Asia
Memory, Nationalism, and Narrative in Contemporary South Asia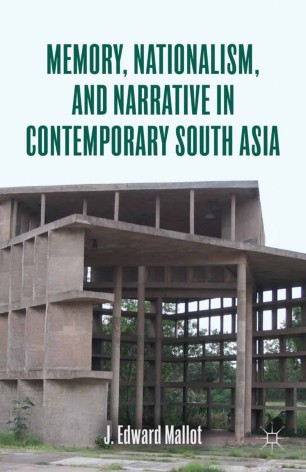 Memory, Nationalism, and Narrative in Contemporary South Asia
Memory, Nationalism, and Narrative in Contemporary South Asia
Memory, Nationalism, and Narrative in Contemporary South Asia
Memory, Nationalism, and Narrative in Contemporary South Asia
---
Copyright 2019 - All Right Reserved
---